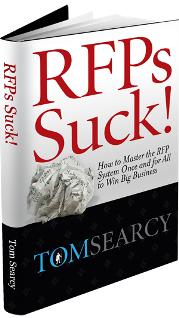 Well, everyone, a collective sigh of relief just left the Hunt Big Sales headquarters (or "clubhouse" as we prefer to call it). Why? My new book—which you are all no doubt familiar with, thanks to your immense help in choosing the cover—just came out!
RFPs Suck! How to Master the RFP System Once and for All to Win Big Business is now available on Amazon, Barnes & Noble and a slew of other places. In about a week, it will be available on Kindle so if that's your format of choice, just let me know and I'll send you an update when it's ready. And if its mere existence isn't enough to convince you to grab a copy, you can find more details about the book at RFPsSuckTheBook.com.
The Vitals:
Hardcover: 160 pages
Price: $29.95
(Yeah, it's a bit more than your average run-of –the-mill book but that's because it's not your average run-of-the-mill book. And anyway, your boss should be buying this for you.)
Publisher: Channel V Books
How you can help:
Refer it to everyone you know.
Buy it for everyone in your office. (Hey, it makes a great stocking stuffer!)
Leave an online review at Amazon or Barnes & Noble if you've read the e-book or after you read the full length version. (Links are above.)
Vote on other peoples' reviews that are particularly helpful (on Amazon).
Think happy, positive thoughts about it every now and then.
Background:
As many of you know, this book is the extended version of my e-book Landing Big Sales with an RFP.
[After the jump I've included the full Table of Contents so you can view the massive amounts of new information, RFP samples and processes I've added to this new hardcover version.]
Sure I kicked and shoved when my marketing team told me that I should write an e-book on RFPs and offer it to readers for free (free?!) on my website. After all, this was the stuff that my clients pay me adult money to coach them through. But I knew that arguing with them would be a losing battle so, like all other battle-scarred soldiers before me, I raised my white flag, buried my head, and jotted down a variety of my favorite RFP-defeating techniques to share with the world.
Thousands of downloads and seemingly hundreds of "Thank You" notes later, and I realized that the demand for this type of material was strong and growing. And so I've expanded what was once limited material into what I like to think of as the ultimate guide to conquering RFPs—whether government, private, or public—by adding several additional winning techniques and a number of sample RFP responses (with critiques). I also did my due diligence by surveying my audience about the mysteries and troubles they've encountered in their RFP traumas, err, experiences and addressed them here.
Read on for the full Table of Contents…


Table of contents
Acknowledgements
Foreword by Dave Stein
Introduction by Tom Searcy
I: Qualify the RFP
Chapter 1: The RFP System is Not Built for You
Chapter 2: Seven Signs of Readiness
Chapter 3: RFPs to Avoid
Chapter 4: How Do I Get in the Game?
II: Understand the RFP
Chapter 5: It Takes a Village…
Chapter 6: Open Meetings: Opportunity or Trap?
Chapter 7: Think Like a Big Prospect
Chapter 8: Why Do Buyers Change Providers?
Chapter 9: How Do Buyers Narrow Down the Field?
Chapter 10: How Do Buyers Differentiate Among Competitors?
Chapter 11: Why Do Buyers Buy?
Chapter 12: Learn the Language Big Prospects Want to Hear
Chapter 13: 10% Leverage
Chapter 14: Create Your Theme
Chapter 15: Tactics for "Breaking" an RFP
III: Write the RFP Response
Chapter 16: Organizing and Writing the RFP Response
Chapter 17: Cover Letter
Chapter 18: Executive Summary
Chapter 19: Final Proposal Checklist
IV: Evaluate the RFP Response
Chapter 20: How Will My RFP Be Evaluated?
V: Turning Theory Into Action: Sample RFP Responses With Analysis
Chapter 21: RFP Review Rubric
Chapter 22: Sample I: A learning management system provider and custom e-course development company is bidding on an RFP from a national association of college and university housing officers for career-enhancing materials for professionals.
Chapter 23: Sample II: A consulting company that teaches Capability Maturity Model Integration in software engineering and organizational development through a series of workshops. The company is bidding on an RFP from a larger consulting firm to offer services to its clients.
Chapter 24: Sample III: A web design company is bidding on an RFP to develop three websites for a large specialty coffee company.
Chapter 25: Sample IV: A strategic communications marketing firm is answering an RFP from the state housing authority to assist a city in promoting its emphasis on homelessness, affordable housing and the creation of vibrant neighborhoods.
Chapter 26: Sample V: A group of investment managers is bidding on an RFP from the state judicial retirement system for a U.S. Domestic Large Capitalization Equity project.
Chapter 27: Sample VI: A non profit historical research and consulting firm is bidding on an RFP from the state purchasing department to research, design, fabricate and install an exhibit in the state capitol building. Intended audience: 4th graders and others visitors to the capitol.
Chapter 28: Sample VII: A public relations and communications firm is bidding on an RFP to manage public relations for a growing software company for one year.