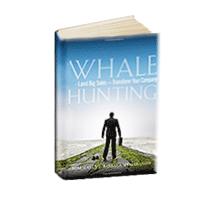 When I was in college, the great lit summaries were published by Cliff's Notes. They could get you through almost any 500+ page book with all of the key points, comparative analysis, footnotes and quotes that you would need for writing a 5 page paper. This was true even if you were starting at 1 AM for an 8 AM class.
Read It for (dot) Me has put a twist on the old Cliff's Notes for the modern business books by combining animation, voice-over and an interview with the author into a 10- minute program for the business book reader. The company just summarized Whale Hunting: How to Land Big Sales and Transform Your Company coauthored by Barbara Weaver Smith and me. We did an accompanying interview with Steve Cunningham, the creator of the program.
The 10-minute Whale Hunting piece serves as a refresher for the thousands of people who have bought and read the book.  For your colleagues and others who may not have read it yet, the piece is a good intro to the book and provides some context to all of the things you have been trying to get them to understand.
Read It for (dot) Me is really worth your time.  And I promise, you can actually stomach listening to the 10-minute pieces.  Check it out.